Best seller RED Laser Pointer!
The safe laser pointer in the USA. Perfect cat toy for responsible cat owner.
Quarton Laser product not only meet FDA regulation, we also make laser pointer for FDA as a standard Laser Pointer.
FDA trust Quarton Laser, why shouldn't you?!

SALE IS NOW ON:
Buy 2 - 5 and get 8% off

Buy 6 or above and get 15% off
Features:
Powered by 2 AAA batteries (INCLUDED!!) which is convenient and cost effective. Very low power consumption and service time up to 40 hours.

PEN STYLE. Light (47g incl. battery), strong and durable aircraft aluminum alloy body (NOT the cheaper plactic).

Transmission distance up to 500M (open space) for freedom to move around the room. A must have. Ideal for Classroom/Business Presentation, Medical professionals, Construction supervisors/Inspectors and cat/dog laser toy.

INFINITER classical model, best-selling in the USA for more than ten years with product liability insurance coverage.

Built-in Auto-Power-control circuit and a

push&hold button

to meet FDA Laser Safety Regulation.

Output power: FDA Class IIIa laser, output power 1~5mW (power control under 3mW), eye safe laser product.

One year warranty: return your INFINITER 100 with your Order ID to our warehouse in California and we will send a brand new replacement for you.

Cheap and Good quality, perfect and safe cat chaser Laser.

Shipped out from our warehouse in California for customers in USA. Therefore, you don't have to wait too long to receive your package.
Product Dimensions:
5.63 x 0.51 x 0.51 inches
1.77 oz (Incl. batteries)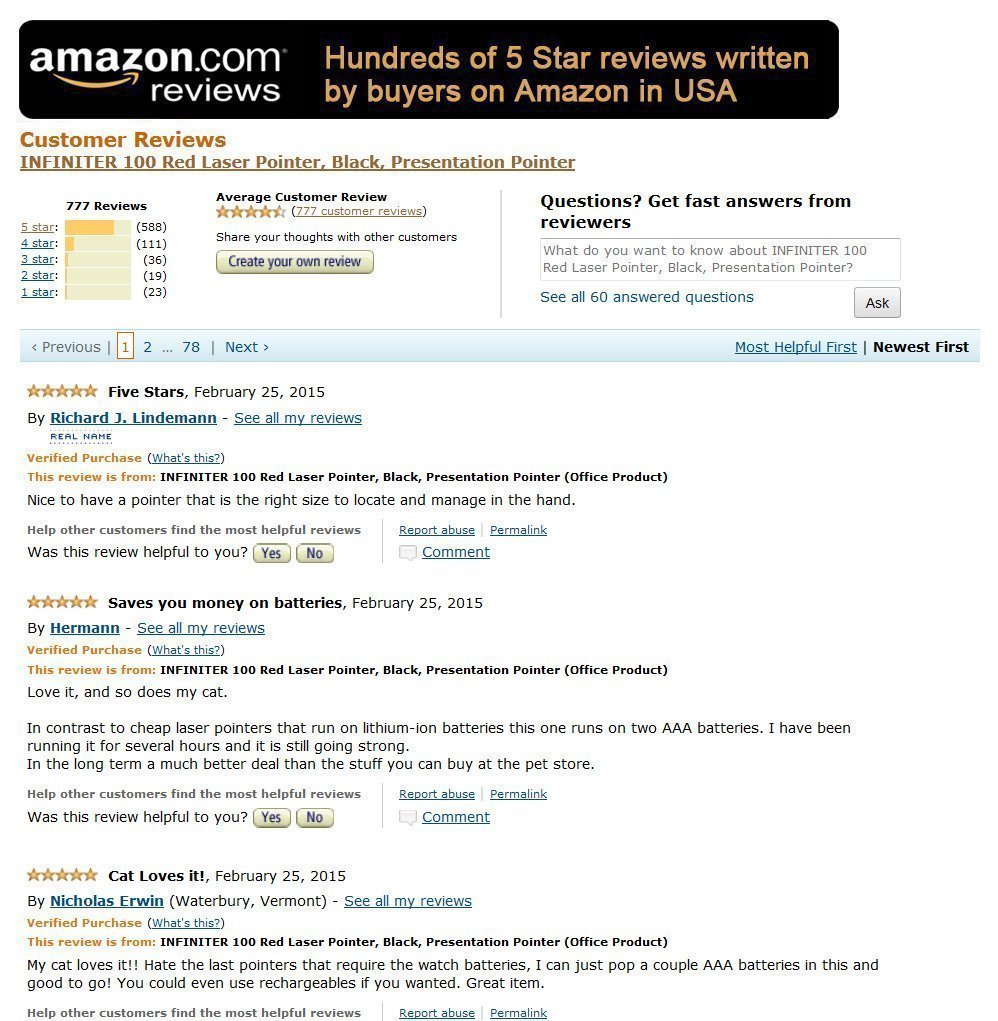 【Q & A】:
Q: Why is the INFINITER 100 recommended by many cat lovers all these years?
A: Because many indoor cats are under-exercised these days.
The INFINITER 100 can help your kitty or cat get exercise as a cat chase toy. Your adorable cat or kitten might be willing to run and jump at the light for a few minutes a day.
The INFINITER 100 will get your cat or kitten active, and we would like to suggest that you could deliver a reward when your cat or kitten catches up with the red laser dot at the end. It would be helpful for them to keep enjoying this chase game with you by this cat laser toy.
The INFINITER 100 uses 2 AAA batteries (included) - this makes for easy battery replacement, and length of time the batteries last is way longer than with those little button cell batteries. The cost of button cell batteries replacement used by other cat toys means that replacing their batteries ends up making them more expensive in the long run.
Moreover, AAA batteries last much longer than button cells batteries which means many hours of cat fun.